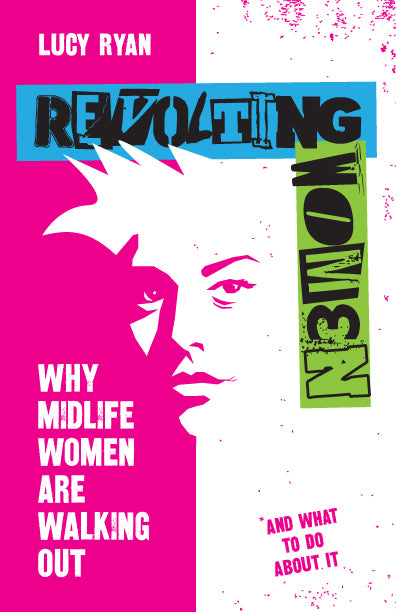 New book by Lucy Ryan
Revolting Women:
Why midlife women walk out (and what to do about it)
My new book, is out in September and is drawing on my research that fills a longstanding data gap.
Professional women over 50 are faced with a triple-whammy of discrimination: they are not male,young or linear in their career paths. As a result , they are leaving corporate life and taking their careers into their own hands. And with it, they take their abundant wisdom, energy and ambition.
This book shows that assumptions about declining midlife motivation and energy just aren't true for women and reveals how you can retain and develop this invaluable talent pool with a better understanding of their challenges and a few simple changes.
Its a key read for any who have experienced this or want to change the diversity approach within their business.
Available now!
Buy on Amazon
What they say about Revolting Women
This deeply researched, profoundly thoughtful book may make you angry, but more importantly, it will inspire you to explore that "sparkle of female genius" that allows women to take on the world in their later years. Bravo Lucy for shining a spotlight on the growing numbers of Revolting Women!

Emma Howard Boyd CBE, Former Chair of the Environment Agency, Chair of the Green Finance Institute
Our research at Cranfield University focuses on the lack of women in leadership in FTSE companies. Why are there so few women in those top executive roles? Dr Ryan supplies a compelling answer in sharing the experiences of senior women in business and the challenges they have in navigating menopause. Women don't lose their energy or their ambition midlife, but they do need support from their companies. Arguably the kinds of changes these women would like to make to the ways they work might benefit everyone and help to foster a truly inclusive workplace!

Professor Sue Vinnicombe CBE, Professor of Women & Leadership, co-author The Annual Female FTSE Board Report, Cranfield School of Management
This supremely well-researched and passionate book lifts the lid on the reality behind the story that 'we've done it!' in retaining our midlife professional women. Yes, we're talking and doing a lot about gender parity, but there is still so much work for businesses and society to engage with – and this book should be your companion. It gave me lightbulb moments throughout, sometimes shocking, but mostly inspiring.

Claire Hughes, Commercial Director, The PHS Group
I love this book! It has questioned my beliefs as a business leader and as a woman. It has helped me better understand professional women at midlife and know I'm not the only one juggling the care of parents and children. And it has given me a lot of energy and excitement for the next phase of my career. So much to give back and, of course, so much to achieve!

Cristina Nestares, CEO, UK Insurance, Admiral Group plc
This book is simply incredible - timely, relevant, ground-breaking and profoundly honest. Grounded in lived experience of organisational realities, it tells stories, instead of waving slogans of diversity. Yet, informed by research, it looks beyond stories to systematically analyse and understand a widespread phenomenon, suggesting practical and positive ways forward.

Professor Ilona Boniwell, CEO Positran, Professor of Positive Psychology at University of East London
A fresh look at the invisible forces of gendered ageism in the workplace - an optimistic and practical must read of how to get the most from the female workforce especially as they mature and offer more powerful experience to organisations and society. Women would not need to revolt or leave the workforce if Dr Ryan's words were heeded. A must read for everyone wanting to honour the rich experience of the female journey in the workplace.

Fiona Parashar, Founder and CEO, Leadership Coaching Limited
I am proud to be one of Lucy Ryan's "Revolting Women", having left corporate life and reinvented my career in my fifties. This is a rich, well-sourced, immensely thought-provoking book. Ryan is absolutely spot on in calling for systemic change and urging the rest of us to be change advocates, to revolt against often unspoken assumptions that the "youthful, male, full-time-led organisation" is where it's still at. For every midlife woman who knows they have plenty of expertise and energy to give - and wonders why managers don't see that - read this and take heart. You are not alone and you can thrive as a "free-range" woman.

Philippa Thomas, Professional career coach, former International & National BBC TV News Presenter
This is such a great call to arms – to business leaders, to the wider workforce, to women themselves – to recognise the 'grey capital' of menopausal women and harness their power in order to unleash its full potential. Particularly refreshing in Dr Ryan's account is the recognition of complexity in the arena of diversity. Bland assumptions are dispensed with tartly and in their place there is a scientific rigor which encourages compassion and flexibility in order to build truly innovative and competitive businesses with the help of some amazing women.

Catherine Des Forges, CEO, The Independent Cinema Organisation
Real life, factual and gripping – an honest account which unmasks the experiences of midlife women, makes the invisible visible and challenges the exasperating norm of our times. History will look back at the stories in this book and shake its head in disbelief. Why on earth was the conversation so hard? Written for revolting women (know you are more than enough, you are vital and you are not alone – you are part of an uprising that is not being so silent) and for those men who have the courage and insight to lead a revolt - you'll be taken beyond 'it's the right thing to do' (of course, it is) and find yourself with a sharp nudge in the ribs.
Have you heard it all before? Is this an optional read? The answer is a resounding No. You need it and your business demands it.

Becky Hewitt, former Human Resources Director, Leeds Building Society
A thought-provoking and powerful book, which challenges readers to confront the reasons as to why women at the top of their game leave the workforce. This book has made me reflect on the kind of life and career I wish to have in my next decade. It has also made me confront some hard truths about what more I must do to create a workplace that aims to retain women at this life-stage.

Julie Ann Haines, CEO, Principality Building Society
This story needs to be told – so employees are heard and empowered, whilst employers understand and act. I hope this book can be a force for good in our society.

Ben Cooper, Chief Content and Music Officer, Bauer Media Group
'Revolting Women' is a must-read guide for all HR Professionals and managers who employ talented women in midIife. This engaging and insightful book by Lucy Ryan showcases the stories of intelligent, committed and highly motivated women workers who are undervalued - and who choose to exit the workplace as a result. The book is fast-paced, incisive and compelling – it gets right to the heart of why highly trained, capable women are leaving corporate lives to forge their own pathways in business. 'Revolting Women' is a an essential read for leaders seeking to prevent the exodus of talented midlife women from their workforce.

Professor Caroline Gatrell FAcSS, FBAM, Associate Dean Research, University of Liverpool Management School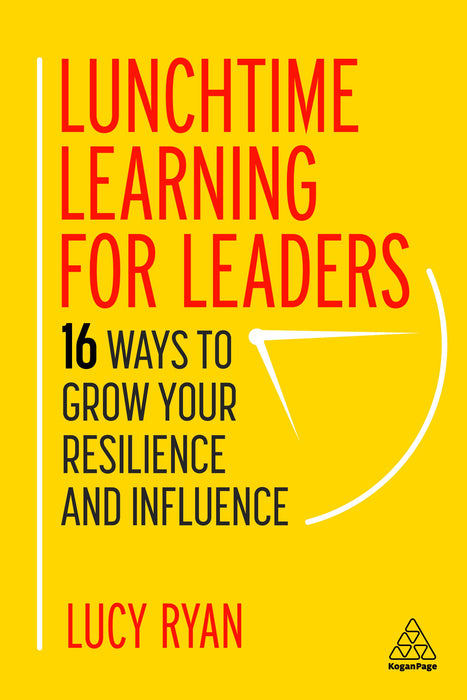 Lunchtime learning for leaders
My new book, is NOW gracing the shelves of bookshops near you and I could not be more excited to be launching it into the world.
It's the product of a lifetime spent in the company of some of the world's most influential and inspiring leaders (and tea… lots of tea!).
A medley of the latest research, psychology and neuroscience, it serves up 16 key topics that can be easily absorbed and put to use. In short, it's the inspirational leadership coach you can keep on your bedside table."
Buy now on our website
What they say about my book
This book is an excellent leadership guide to enhancing resilience in an
ever-changing world of work.


Professor Cary Cooper
If you are a leader or walking towards leadership, this is a rare book that is likely to be useful! It's simply incredible, so enjoy!


Professor Ilona Boniwell
An absolute gem. Full of practical, pragmatic and easy-to-grasp advice for everyone who has a passion for leading and developing people.




Victoria Fox, AAR Group
It's like having Lucy on speed dial!

Claire Sadler, Marketing Director, British Heart Foundation
A must-read book for any leader and typical of Lucy's straightforward, practical but powerful coaching approach.





Julie Ann Haines, CEO, Principality Building Society
I love this kind of book - clear, sparkling, full of leadership insights, evidence and practicalities.





Fiona Parashar, CEO, Leadership Coaching
Positive psychology coaching in the workplace
This research-to-practice text explores how coaching can support thriving in the workplace. It focuses on positive psychology coaching in the workplace in relation to: the convergence with organisational psychology and coaching psychology, professional and ethical practices, resilience and wellbeing, team and systemic approaches, leadership, tools of intervention, convergence of clinical interventions and virtuousness, and the future of thriving workplaces. The chapter contributions represent a truly international scholarship and bring together complementary perspectives from the fields of positive psychology, coaching psychology, organisational psychology, organisational scholarship, neuroscience, education and philosophy. Written in a scholarly but accessible style, this text is of interest to a wide readership, including academics, professionals and postgraduate students of positive psychology, organisational psychology, counselling and coaching psychology, human resource management, mental health, health and social welfare.
Get your hands on a copy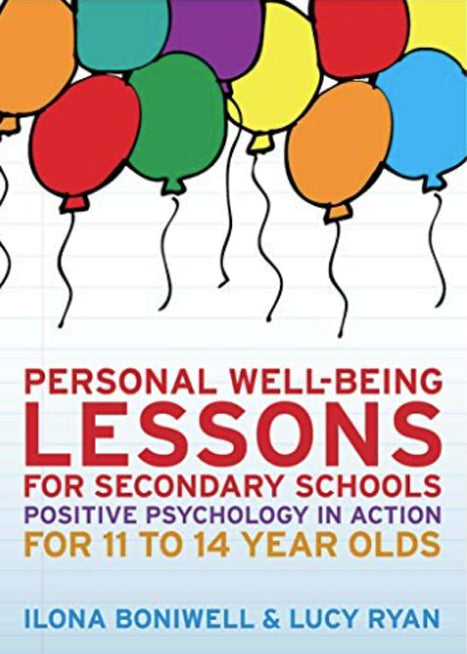 Personal Well-Being Lessons For Secondary Schools: Positive Psychology In Action For 11 To 14 Year Olds
This book offers practitioners working with 11-14 year olds, a highly practical education resource for running well being lessons.
Get your hands on a copy